Maintain a business edge by keeping workers productive, with access to resources from anywhere with the SonicWallâ"¢ Secure Mobile Access (SMA) 210 Appliance. For organizations with less than 50 employees, the SMA 210 appliance provides these businesses with a scalable and cost-effective SMA solution that requires no pre-installed client software and is easy to deploy and manage.
Extended mobility: Provide a single, secure mobility gateway for all platforms — including Windows®, Mac OS® and Linux®—from almost any device, whether for browser-based access or an "in-office" experience. Extend access to iOS, Mac OSX, Windows, Google® Android™ and Kindle Fire devices with the SonicWall Mobile Connect™ app.
Protection from malware and rogue access: Protect organizational networks from mobile malware and rogue access with context-aware authentication that grants access only to trusted devices and authorized users. Configure policies to interrogate mobile devices for essential security information such as jailbreak or root status, device ID, certificate status and OS versions prior to granting access. Laptops and PCs are also interrogated for the presence or absence of security software, client certificates, and device ID. Devices that do not meet policy requirements are not allowed network access and the user is notified of non-compliance.
One-click security and data protection: Protect company data at rest on mobile devices. Authenticated users can securely browse and view allowed intranet file shares and files from within the Mobile Connect app. Administrators can establish and enforce mobile application management policy for the Mobile Connect app to control whether files viewed can be opened in other apps, copied to the clipboard, printed or cached securely within the Mobile Connect app. This allows administrators to isolate business data from personal data stored on the device and reduces the risk of data loss. In addition, if the user's credentials are revoked, content stored in the Mobile Connect app is locked and can no longer be accessed or viewed.
Web traffic protection and data loss prevention: Protect against common attacks such as cross-site scripting, cookie tampering, injection attacks and cross-site request forgery (CSRF) with the optional Web Application Firewall (WAF) Service. Plus, stop theft of credit card and Social Security numbers with Data Leak Protection (DLP).
Multilayer security: Two-factor authentication provides tokenless, enhanced protection for your small business SSL VPN against keyloggers by generating a unique, one-time password that is sent to a remote user's mobile device or email address.
Simplified management: Granular unified policy eases administration by displaying bookmarks and policies in one centralized page. Multiple and custom LDAP policies can restrict unauthorized access to specific applications or resources.
Secure Remote Access Product Features
Warranty & Support
1-Yr hardware/1-Yr support, firmware updates
Feature Summary (comparison by model)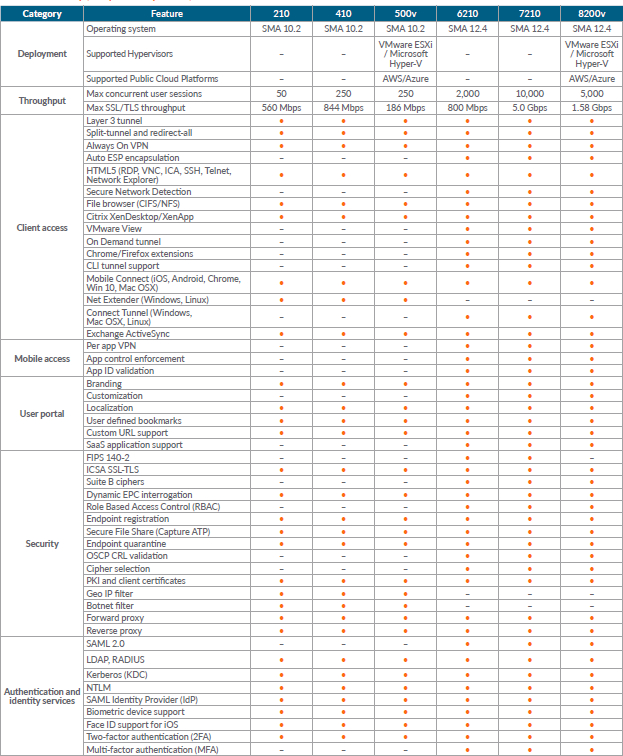 Feature Summary (comparison by model con't)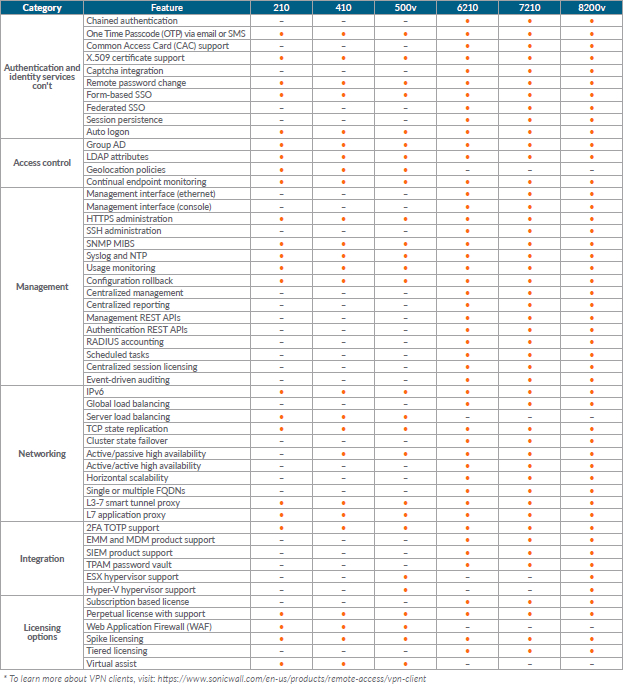 Physical appliance specifications