Email Security Appliances
SonicWall Email Security appliances are ideal for organizations that need a dedicated on-premises solution. The hardened Linux-based appliance defends against advanced email-borne threats such as ransomware, zero-day threats, spear phishing and business email compromise. Our multi-layered solution provides comprehensive inbound and outbound protection, and is available in a range of hardware appliance options that scales up to 10,000 users per appliance.

Choose the hardware platform that fits your requirement, then add the Email Protection Subscription licence to cover the number of primary email addresses (do not include aliases). You can then add the optional subscriptions of Anti-Virus & Compliance.
The current lineup includes the ESA 5000, ESA 7000 & ESA 9000 hardware appliances, plus the Virtual Appliance, which allows for a flexible deployment no matter the size.

---
More information: https://www.sonicwall.com/en-us/products/secure-email/email-security-appliance
---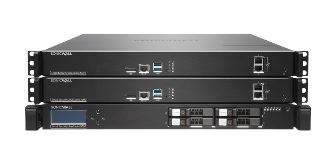 ---