Latest News
15/06/2015
Check the latest blogs and updates from SonicWall-Sales.
SonicWall SecureFirst Platinum Partner
29/08/2018
We are proud to announce that we have just been recognised as a SonicWall SecureFirst Platinum Partner. This is the highest level you can achieve and recognised by years of great service to our customers. We have consistantly offered best advice backed with technical knowledge and continue to help customers find the best solution.
We are backed by SonicWall UK and have been selling, installing, managing and maintaining SonicWall products for over 10 years. Call us if you need advice on any SonicWall product.

Upgrade Your SonicWall Next-Generation Firewall with '3 & Free' Program
28/08/2018
Some good things should never end.
One of the most successful promotions in company history, SonicWall's '3 & Free' incentive is now a permanent component of our Customer Loyalty program.
In an escalated cyber threat landscape, it's more important than ever to ensure your organization's networks, data and applications are protected against today's most malicious cyberattacks, including the most recent Foreshadow processor exploits. In fact, in July 2018 alone, the average SonicWall customer faced:
2,164 malware attacks (28 percent increase from July 2017)
81 ransomware attacks (43 percent increase)
143 encrypted threats
13 phishing attacks each day
1,413 new malware variants discovered each day by SonicWall Capture Advanced Threat Protection (ATP) sandbox with Real-Time Deep Memory InspectionTM
When you upgrade your SonicWall hardware you gain the latest in next-generation firewall (NGFW) technology and access to the SonicWall Capture Advanced Threat Protection (ATP) service. It's a cloud-based, multi-engine sandbox that stops both known and unknown cyberattacks from critically impacting your business.
What is the SonicWall '3 & Free' Program?
Once a limited-time promotion, the SonicWall '3 & Free' is now a mainstay offering to loyal SonicWall customers. It's an easy, cost-effective way for customers to upgrade to the very latest SonicWall next-generation firewall appliance for free.
Eligible customers may receive a complimentary NGFW appliance by purchasing a bundle that includes a three-year subscription of the SonicWall Advanced Gateway Security Suite from their authorized SonicWall SecureFirst partner.
This security suite includes everything you need to stay protected against today's modern attacks, including ransomware, encrypted threats, zero-day attacks and processor-based exploits. It offers:
Capture Advanced Threat Protection (ATP) sandbox
Gateway Anti-Virus and Anti-Spyware
Intrusion Prevention Service
Application Control
Content Filtering Service
24×7 Support
SonicWall's exclusive security subscription service also includes SonicWall Real-Time Deep Memory Inspection (RTDMI). A patent-pending technology, RTDMI™ enables Capture ATP to detect and block malware that does not exhibit any malicious behavior or hides weaponry via encryption. This protects your organization from zero-day attacks, malicious PDFs and Microsoft Office files, and even chip-based Spectre, Foreshadow and Meltdown exploits.
Upgrade Your SonicWall Firewall
Ready to upgrade? Take advantage of our '3 & Free' program to get the latest in SonicWall next-generation firewall technology — for free. BEGIN UPGRADE
SonicWall Recommended by NSS Labs in the NGFW Group Test
19/07/2018
The SonicWall NSa 2650 is strongly positioned in the upper right quadrant of the NSS Labs SonicWall Security Value MapTM (SVM) for 2018.
The results of this public test mean that for six straight years, SonicWall has excelled in the industry's most comprehensive real-world testing of next-generation firewalls (NGFWs).
With the 2018 findings, NSS Labs verifies that SonicWall NGFWs:
• Demonstrated as one of the highest-rated and best-value NGFWs in the industry, with a Security Effectiveness score of 98.8% at a very low TCO of $4 per Protected Mbps
• Tested 100% effective in countering all advanced HTTP evasion, obfuscation and fragmentation techniques
• Earned 100% in stability and reliability testing
For further guidance on how to interpret the SonicWall SVM, please refer to the NSS Labs 2018 NGFW SVM Comparative Report.
What are the Key Takeaways from the Report?
1. 6th consecutive year a SonicWall NGFW has received the NSS Lab Rating 'Recommended'
2. The NSa 2650:
a. achieved a Security Effectiveness score of 98.8%
b. tested 100% effective against all evasions
c. passed 100% of all stability & reliability tests
d. accomplished all of this with a TCO of $4/protected Mbps
3. In today's challenging environment, where our customers are attacked thousands of times per day, it is imperative that a platform approach is adopted to deliver layers of security throughout the organization. This report confirms that SonicWall NGFWs are the product they can depend on to build out this layered defense strategy.
A New Cyber Security Certification - SonicWall Network Security Administrator (SNSA)
02/07/2018
The new SonicWall Network Security Administrator (SNSA) course and certification exam is replacing the CSSA Certification with its Network Security Basic Administration (NSBA) course. For individuals who hold a current CSSA certification, SonicWall will continue to acknowledge this important certification for two years from the certification date. Students wishing to re-certify an expiring CSSA certification will, however, be required to complete the new SNSA course and certification. Learn More

SonicWall Live Demo – new additions
21/05/2018
SonicWall Live Demo – new additions
With the recent product launches we've made significant updates to the site:
NSa 6650
NSa 9650
Upgrade to SonicOS 6.5.2 of all units
We will also be adding Capture Security Center shortly
Check out the
SonicWall Live Demo Site
and bookmark it to your favorites.
SonicWall 3 & Free Promotion is extended through April 30, 2018.
23/02/2018
New upgrade promotion
Take advantage of the '3 & Free' Promotion through to April 30, 2018. Upgrade your Gen 5 SonicWall by buying 3 years of SonicWall Advanced Gateway Security Suite (including Capture ATP) and you will get the SonicWall hardware for Free!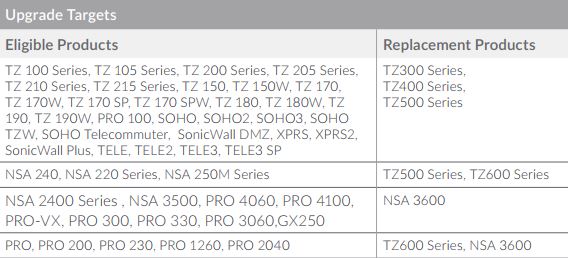 Buy 3 Years AGSS and get the firewall hardware free!
16/01/2018
New upgrade promotion
Take advantage of the '3 & Free' Promotion through to April 30, 2018. Upgrade your Gen 5 SonicWall by buying 3 years of SonicWall Advanced Gateway Security Suite (including Capture ATP) and you will get the SonicWall hardware for Free!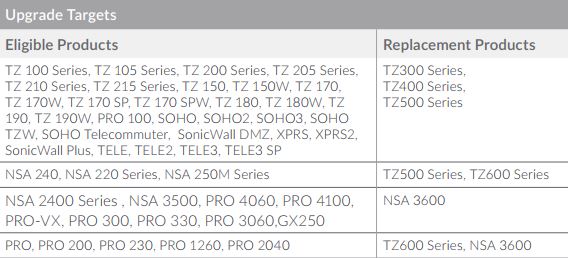 Christmas 2017 opening times and product availability.
21/12/2017
Although our office is open between Christmas & New Year, the warehouse is not. Therefore, the last date of despatch this year will be Friday 22nd - around lunchtime.
Office Closed: December 25th/26th & January 1st
Warehouse Closed: December 25th/26th/27th/28th/29th & January 1st.
We should still be able to process subscriptions and renewals though, please ask.

WPA2 KRACK Exploit: A SonicWall Alert
17/10/2017
Exert from here: https://www.sonicwall.com/en-us/support/product-no...

On October 16, 2017 security researchers made public earlier findings in which they demonstrated fundamental design flaws in WPA2 that could theoretically lead to man-in-the-middle (MITM) attacks using key reinstallation attacks (KRACKs). Exploiting the vulnerability could enable cyber criminals to steal confidential information such as email, credit card numbers, passwords and more.
The WPA2 design flaws are protocol vulnerabilities and are not implementation specific. Both wireless access points and wireless clients are susceptible. Details of the vulnerabilities are available on the researchers' website at www.krackattacks.com.

Impact to SonicWall customers
SonicWall Capture Labs has evaluated these vulnerabilities and determined that our SonicPoint and SonicWave wireless access points, as well as our TZ and SOHO Wireless firewalls, are not vulnerable to the flaws in WPA2.
SonicWall is working on a solution to provide an additional layer of protection for SonicWall customers that will block these man-in-the-middle attacks even from vulnerable unpatched clients. This will be delivered in a future SonicOS update.
Recommended Action
In order to minimize the potential impact of these vulnerabilities, SonicWall recommends customers take the following actions:
Patch all Windows, Linux, Android, iOS and Mac OS clients with the latest KRACK updates from client vendors.
For additional security, customers can use SonicWall VPN technology to encrypt all network traffic between their wireless clients and the SonicWall firewall.